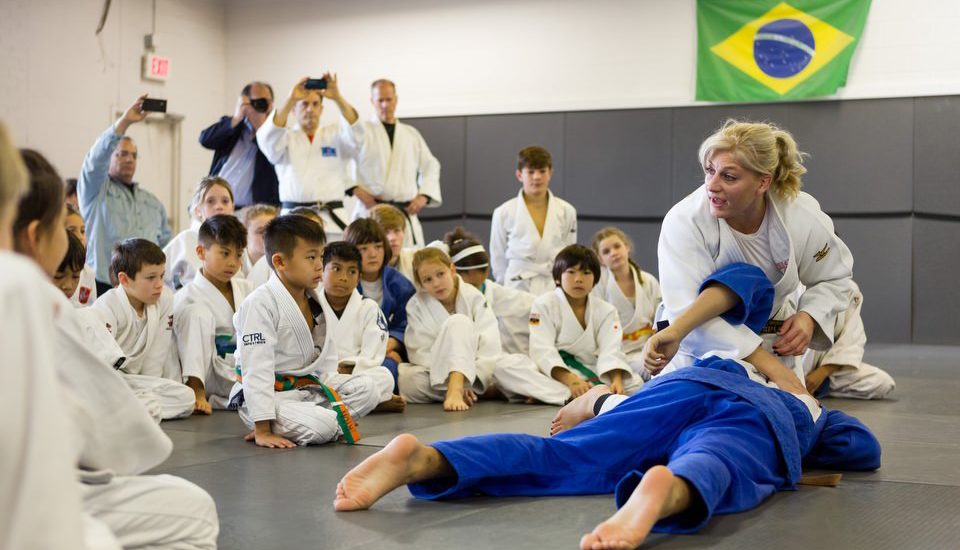 DC-Metro area judoka and Brazilizan Jiu-Jitsu practitioners got a real treat when Kayla Harrison, 2x Olympic Judo Champion, gave a clinic at SportJudo in Springfield, VA. The day was split into two segments: one for kids and one for adults. This area isn't a stranger to some of the world's top-notch judoka visiting and having clinics. I'm no stranger to them as well. The last time I photographed and participated in such a clinic was 2011 when 3x World Champion and Olympic Champion, Kosei Inoue, visited Washington Judo at Georgetown University in D.C. What set this clinic apart from so many others, is that none of them was led by an American Olympic gold-medalist. This was a first and there was barely enough room in the spacious SportJudo facility to drill Kayla's gold-mining techniques.
The first part of the day was dedicated to kids and Kayla was a great instructor. She managed to keep their attention, keep it fun, teach them solid techniques, and kept control of a room with scores of children of various ages. Keeping some semblance of control with that many children is difficult enough, but she had their attention and their participation. After their session, the kids swarmed her for autographs and photos.
I did, too. Hey, I have no shame and since I was going to participate in the adult session, I wanted to make sure my baby girl's onesie got signed.
After the kids got their photos and autographs, the adult session began with a quick but robust warm-up. First, Kayla showed us the rolling juji-gatame that she used to secure gold at the 2016 Rio Olympics against France's Audrey Tcheuméo. In the drill, we rolled all the way through, finishing the arm lock facing upward. In her match, she finished the lock belly-down. Throughout her lesson, she emphasized doing the technique as perfectly and as tightly as possible so that the opponent doesn't have the chance to escape. She also showed adjustments and counters to an opponent's defenses.
After the newaza, we practiced her favorite technique: O-goshi. Although it's a basic technique and rarely a high-level staple, it has been used successfully by Harrison because of that very reason. O-goshi is, in nearly all cases, the very first throw one learns in judo. So, it does catch some of her opponents by surprise when they get attacked by it. What can make such an elementary throw so successful is the mastery of the basics and developing strategies to hit that technique from various situations before even needing to touch a variant. I learned that the hard way.
Ya see, I decided to ask one of the most dangerous questions one could ask in martial arts: "What if?"
Her answer swiftly plastered me on my back. I then asked the 2nd most dangerous question: "Could I see that again? and let me resist harder."
Boom! Followed by the rest of the class chuckling.
It was great to not only have my question answered, but to also experience a throw I understand well, performed at the highest level. It's fast, hard, and she took it easy on me. I learned a lot from her throughout the day and from those two throws. It was a great experience.
Kayla Harrison's Fearless Foundation
Kayla started the Fearless Foundation to shine light upon the darkness of child sexual abuse and to enhance the lives of survivors through sport and education. Currently, the foundation is working on educating and empowering victims to come forward and seek the help that's available. Additionally, it's designed to inform the general public of the warning signs of child sexual abuse in order to reduce the risk to children. A third angle of the foundation is designing a health and wellness program using judo to help survivors achieve the fitness, emotional and physical strength that comes from increased self-confidence and self-mastery.
Kayla has her own line of judogi, Kayla Harrison Fearless Collection, through Fuji Sports.